Books, CDs and DVDs
Transcendental Meditation books are available from www.maharishi.co.uk.
They also stock books and CDs about Maharishi Ayurveda.
Maharishi Ayurveda
Maharishi Ayurveda is a system of natural health for wellbeing, vitality and longevity. It includes:
Health consultations
Advice on diet and lifestyle
Herbal supplements
Treatments
Maharishi Ayurveda can help with many common health concerns, including:
Diet
Digestion
Sleep
Heart health
Mental / emotional imbalance
Joint and muscle pain
Weight imbalance
Men's and women's health
Consultations
Consultations are given by qualified Maharishi Ayurveda health practitioners.
Consulting practitioners in the UK are: Dr Donn Brennan, Dr Greg Watras and Dr Geoffrey Mead.
A personal health consultation includes:
Ayurvedic pulse diagnosis to determine mind / body type and imbalances
Assessment of health history
Advice on diet, digestion and daily routine
Treatments
Maharishi Ayurveda treatments clear toxins and balance and revitalise the mind and body.
Treatments are effortless and enjoyable and are carried out by specialist technicians at Maharishi Ayurveda Health Centres.
They include:
Panchakarma revitalisation therapy, a treatment taken residentially for 3-10 days.
Single health treatments for weight balance, for emotional balance, for lower back pain, for anti-ageing, for joint problems and for skin health and deep relaxation.
Herbal supplements
Maharishi Ayurveda herbal supplements enliven the body's healing intelligence.
They bring balance to areas of health such as sleep, digestion and metabolism, immunity and allergies, mind and emotions, heart and liver and fertility.
There are also herbals for women's and men's health and for children, students and seniors.
Maharishi Ayurveda herbal supplements are made using authentic ayurvedic formulas and traditional processes to world-class standards.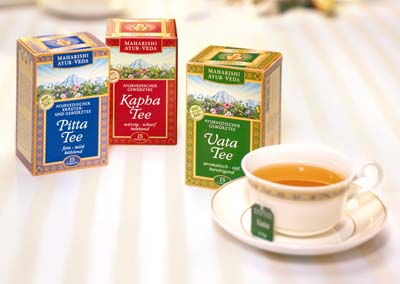 Information
For an information pack and product catalogue, call 01695 51015, or email map@maharishi.co.uk.
There's also a monthly e-newsletter which you can subscribe to at www.maharishi.co.uk.
If you are requesting an information pack, or if you are purchasing from Maharishi Ayurveda for the first time, please use OFFER CODE Z108.
Maharishi Ayurveda products will then send you a complimentary copy of a talk by Dr Donn Brennan, 'Introduction to Maharishi Ayurveda.
This 70-minute live lecture on CD covers all the basic principles and includes a wealth of practical advice.